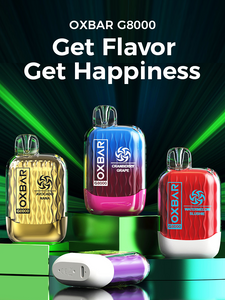 INTRODUCING THE ROCKY VAPOR OXBAR G-8000 COLLECTION - YOUR ULTIMATE RECHARGEABLE DISPOSABLE VAPE
Looking for a premium and hassle-free vaping experience? Look no further than the Rocky Vapor OXBAR G-8000 collection, available exclusively at Nimbus Distro, the master distributor of OXBAR in Canada. We offer wholesale prices on these cutting-edge rechargeable disposable vapes, designed to elevate your vaping pleasure to new heights.
LONG-LASTING BATTERY FOR ENDLESS VAPING PLEASURE
Our Rocky Vapor OXBAR G-8000 boasts a powerful and long-lasting battery that ensures you never experience a dull moment. Say goodbye to frequent recharging and hello to uninterrupted vaping pleasure. With the Rocky Vapor OXBAR G-8000, you can savor every puff without compromise.
IMMERSE YOURSELF IN IRRESISTIBLE FLAVORS
Experience a burst of flavor with every inhale. The Rocky Vapor OXBAR G-8000 is pre-loaded with 18mL of premium e-liquid, carefully crafted to deliver an exceptional taste sensation. Indulge your senses in a variety of mouthwatering flavors that will leave you craving for more.
THE ROCKY VAPOR OXBAR ADVANTAGE - NIMBUS DISTRO, CANADA'S MASTER DISTRIBUTOR
At Nimbus Distro, we take pride in being the exclusive master distributor of Rocky Vapor OXBAR in Canada. With our deep understanding of the vaping industry and commitment to quality, we bring you the unparalleled Rocky Vapor OXBAR experience. As the trusted source for Rocky Vapor OXBAR products, we offer wholesale opportunities for retailers and ensure that vapers across Canada can access these exceptional devices. Discover the Rocky Vapor OXBAR advantage at Nimbus Distro, where innovation and customer satisfaction come together.
Explore the full range of Rocky Vapor OXBAR G-8000 devices. Elevate your vaping experience with this state-of-the-art rechargeable disposable vape, offering incredible battery life, exceptional flavors, and the convenience you deserve.
Don't miss out on this game-changing innovation in the world of vaping. Order your Rocky Vapor OXBAR G-8000 rechargeable disposable vapes today and take your vaping pleasure to new heights.
The [NEW] ROCKY VAPOR OXBAR G-8000 Puffs is a sensational customer favorite, and we hope you like it just as much.

Inventory Last Updated: Sep 24, 2023