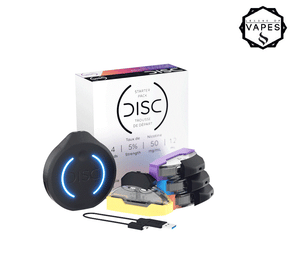 Introducing the world's smallest e-cigarette
DISC by Vapeshot is a stealthy device that is packed with power to deliver a smooth, consistent vaping experience. The built-in rechargeable battery is big enough to satisfy your daily vaping needs. In addition, the light, durable plastic housing of DISC is impact-resistant for travelling. You can take the device with you anywhere you go.
Each flavour pod is configured with auto-temperature control and a 1.25Ω resistance coil. The click-tight fit design of the pod prevents misfires and leaks, so you can spend more time vaping and less time managing your juice.
Small & Mighty
Ultra-light and discreet e-cigarette for people on the move.
Smart Features
The temperature control function automatically adjusts power to prevent coil damage and ensure you never get a dry hit. 
Put the cord away
DISC is packed with cutting-edge technology. The built-in rechargeable battery is good for 250 puffs, so vaping on-the-go doesn't risk running out of power. When it is time to charge, you can skip the cables and charge wirelessly on the dock.
Each Starter Pack includes: 
1 x Disc Device.
1 x Micro-USB charging cable.
4 Pods 50mg/mL (1.2 ml) :  1 x Smooth Mint, 1 x Peachy Peach, 1 x Smooth Tobacco, and 1 x Tropic Berry Pod.
The Vape Shot DISC Starter Pack is the product you didn't think you need, but once you have it, something you won't want to live without.

Inventory Last Updated: Sep 24, 2023